Virtual Security Guard is a cost-effective alternative to live security guards or patrols. And, unlike a fixed surveillance system, which requires a lot of cabling, Virtual Guard is portable and can be rapidly deployed and installed, often within the same day.
Titan's Virtual Security Guard is a mobile surveillance system that is ideal for challenging and remote areas and any outdoor environment that has short or long-term security needs.
Virtual Guard can be coupled with our Patrol Services and, just like our live video monitoring services, provides 24/7 surveillance by a highly trained, in-house team ready to respond to suspicious activity the moment it happens.
We have three types of Virtual Security Guards designed to meet your needs.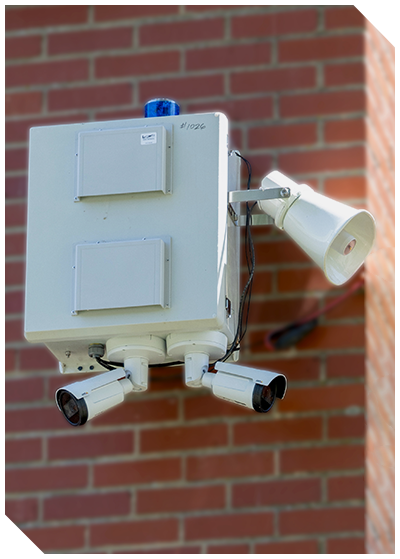 MOUNTED



• Best for: locations that have a power source
• Most cost-effective
•Needs to be mounted to a building, wall, or pole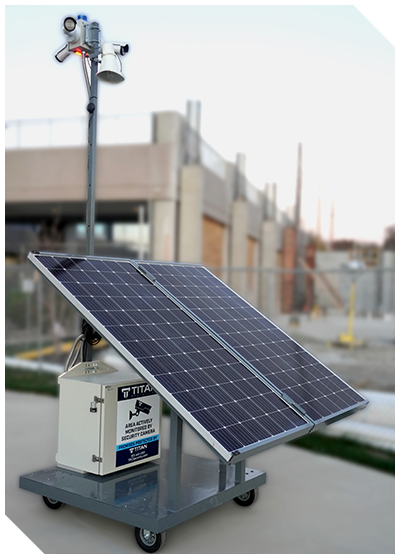 SENTRY



• Best for: locations that don't have a power source and need mobility
• Can be mobilized
• Cost-effective and easy to deploy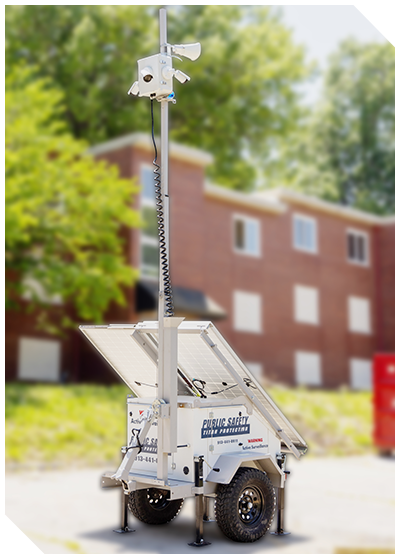 TRAILER
• Best for: locations that don't have a power source and need mobility
• Easy to deploy
• Mounted on a trailer – can quickly be hitched and moved
• Best value if significant mobility is a requirement
OUR VIRTUAL SECURITY GUARDS COME WITH:
Rapid deployment capability - sometimes within the same day
Titan's best-in-class, 24/7 video monitoring service. Our highly skilled monitoring team operates out of our in-house, redundant, UL, and Five Diamond Certified command center to provide you with fast, responsive service.
121 decibel bullhorn talk down speakers - our team can make announcements like "police have been dispatched" that are broadcast through the unit's speaker system


Alarm systems and flashing lights - help deter criminals and trespassers


Equipped with three smart IP cameras


Some models feature an adjustable mast up to 140" high


Infrared cameras with a range of 130' in darkness (range increases with lighting at night)
BENEFITS OF THE VIRTUAL GUARD

COST SAVINGS
Less expensive than on-site guard services.

FAST DEPLOYMENT
Fast deployment, installation, and maneuverability.


ANYWHERE, ANYTIME ACCESS
Access your security feed at any time and on any device to check on your property, whether you're in your office or on your mobile device.


FASTER RESPONSE RATES
Cellular-based monitoring (no internet necessary).

SOLAR POWERED
No need for an outside power source or cabling.


PROFESSIONAL MONITORING
Our highly trained operatives monitor your properties and take action when needed, so you can have peace of mind!

VIRTUAL GUARDS ARE A COST-EFFECTIVE ALTERNATIVE
TO LIVE GUARDS PERFECT FOR:

Straub Construction lost thousands of dollars in construction equipment and delayed project costs due to job site theft. We worked with them to deploy virtual security guards and made over 20 arrests in two years. See how we did it for them and how we can do it for you.
ON-SITE OR ON CAMERA, TITAN HAS YOU COVERED
When you use Titan Protection for video monitoring, guard services, or both, incidents are acted upon in real-time, and crime can be prevented before it happens. We combine superior people and technology to deliver adequate protection for your assets and, most importantly, peace of mind.